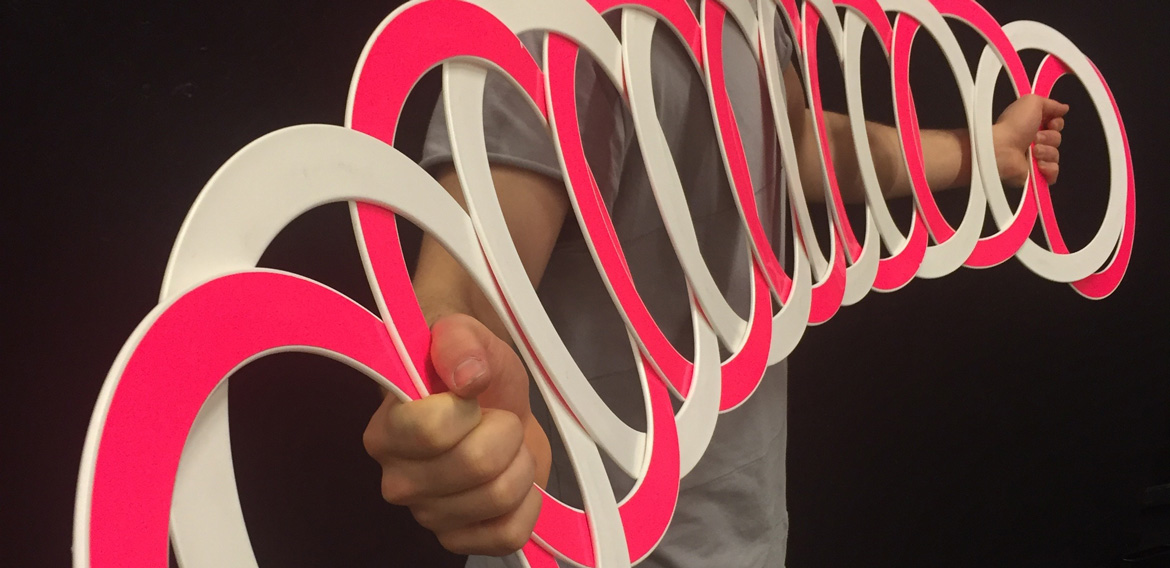 Video of juggling with rings from Tony Pezzo Fake Sports! + Rings duo K8
Details

Published: Thursday, 01 September 2016 19:21
K8 Juggling launches an offer including one set of 5 DUO Juggling Rings special edition white and fuchsia and Tony Pezzo's last video: FAKE SPORTS! More than 25 minutes of a technique with DUO Juggling Rings including advanced and innovative routines with nets and balls.
DUO Juggling Rings: 2 colors - double faced
The DUO juggling rings are white on one side and the other side the color of your choice! The diameter is 32 cm, these juggling rings are one of the best on the market, they include all the necessary features for professional use: shock resistant, very stable, soft and rounded edges. Also are ideal due to its weight of 110 gr and 4 mm. thickness.
K8 Juggling DUO rings can be personalized, ask for personalized stickers designed by DUO.
"The DUO juggling rings of 2 colors are strong and are well manufactured. I use these rings because, besides having two sides they do not feel very different from standard rings and work very well with different types of landslides, turns, pancakes and others. With these rings you will have the benefits of one normal ring, but with a lot more possibilities". - Tony Pezzo
The DUO Juggling Rings are manufactured in Argentina by K8 Juggling.
FAKE SPORTS! Tony Pezzo presents more than 25 minutes of juggling with latest generation rings
Tony Pezzo has developed an advanced technique with DUO rings, we recommend you watch the video if you are training with juggling rings.
The video includes
Rings: Waterfalls and releases
Nets: New routine of nets and balls!
Change of color: A deep look at 2-sided rings and the visual power of color change.
Format: MOV
Size: 1.1GB
By buying the combo rings DUO + Fake Sports! Tony Pezzo's Video, you will be contributing directly to Tony's development as a juggler and making new projects like this possible. Tony would like to thank the entire jugglers community who generously support his work.
With your purchase you will get the link to download the video of juggling Fake Sports

Visit the website - Tony Pezzo