LIGLAB & K8 LIGHTPAINTING CONTEST
Details

Published: Friday, 15 May 2020 17:09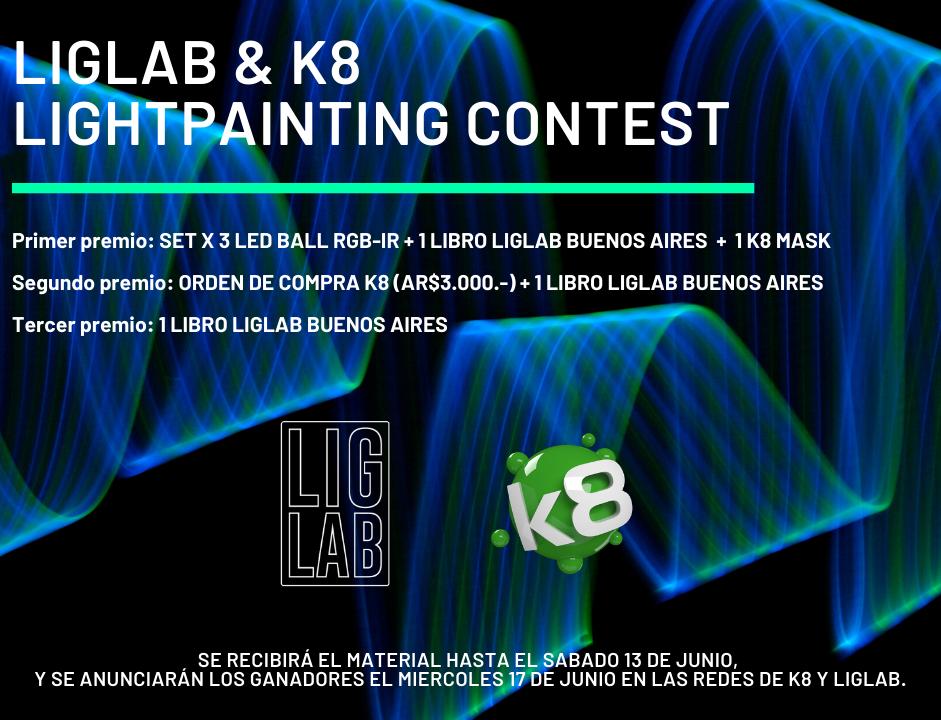 LIGLAB & K8 LIGHT PAINTING CONTEST
As a part of the presentation of LIGLAB BUENOS AIRES -the first book from the Argentinean light painting group LIGLAB- Celebrating the International Day of Light (May 16th) and the International Day of Juggling (June 17th), @k8malabares and @liglab announce a Light Painting Contest, inviting people all over the world to paint with light in their homes. The contest is open to photographers, jugglers, and any enthusiast with a camera and a light device. The three winning photos will receive special prizes!
CONTEST PRIZES
First Prize: SET X 3 LED BALL RGB-IR + 1LIGLAB BUENOS AIRES BOOK + 1 K8 MASK
Second Prize: SHOPPING ORDER IN K8 (AR$3.000) + 1 LIGLAB BUENOS AIRES BOOK
Third Prize: 1LIGLAB BUENOS AIRES BOOK
CONTEST RULES:
- The material will be received until June 13th, and the winners will be announced on June 17th in K8 and LIGLAB IGs.
- Participants have to follow the IGs accounts of @k8malabares and @liglab, share the image of the Light Contest in a story or post, and tag three friends to it.
- The long exposure photographs must use light-painting techniques taken during the days of the contests and have a resolution of 1 to 3 MB.
- Digital collages and photomontages with photoshop or similar software are not allowed.
- The content of the photographs is totally free and should not have any signature.
- Each participant can send up to two photos, but the same photo can't be sent by many persons or groups.
- The participant must be the author of the photograph and must have the permission of models if the photo happens to have people on it.
- Photographs that don't follow all the requirements detailed will be automatically disqualified.
- Photographs must be send by mail to This email address is being protected from spambots. You need JavaScript enabled to view it.
- K8-LIGLAB will not make any use of the photographs sent to the contest, except the uses related to the contest.
- The jury will be formed by Dario Brancatelli (K8 Creator) and Alberto Brescia, Diego Altabas, Migma (LIGLAB members).
We wish you a good look and get ready to draw and paint in the space!
#liglabphoto #k8juggling#k8malabares #lightpaintingcontest #lightpainting