THE STREET JUGGLING PUZZLE..!
Details

Published: Tuesday, 02 March 2021 21:31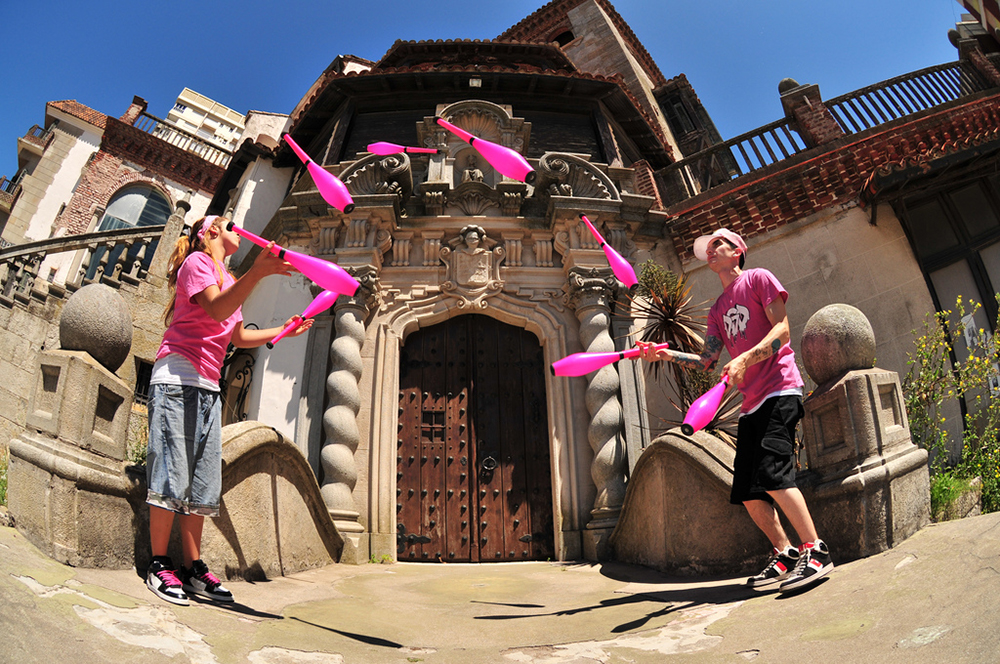 Street Juggling, which could also be referred to as urban juggling, is in fact a concept that goes far beyond the mere location linked to public space. This contemporary trend in the arts of juggling is defined as a multi-faceted formula in which influences from other urban cultures coexist, and the sum of these parts results in a much more elaborate mix. The Street Juggling recipe is made up of large percentages of skateboarding, street art, parkour, music and video. As last ingredients, an explicit pop look in the clothing style and, obviously, a lot, but a lot of juggling, finish and sum up this conceptual kaleidoscope.
PIONEERS OF THE 90'S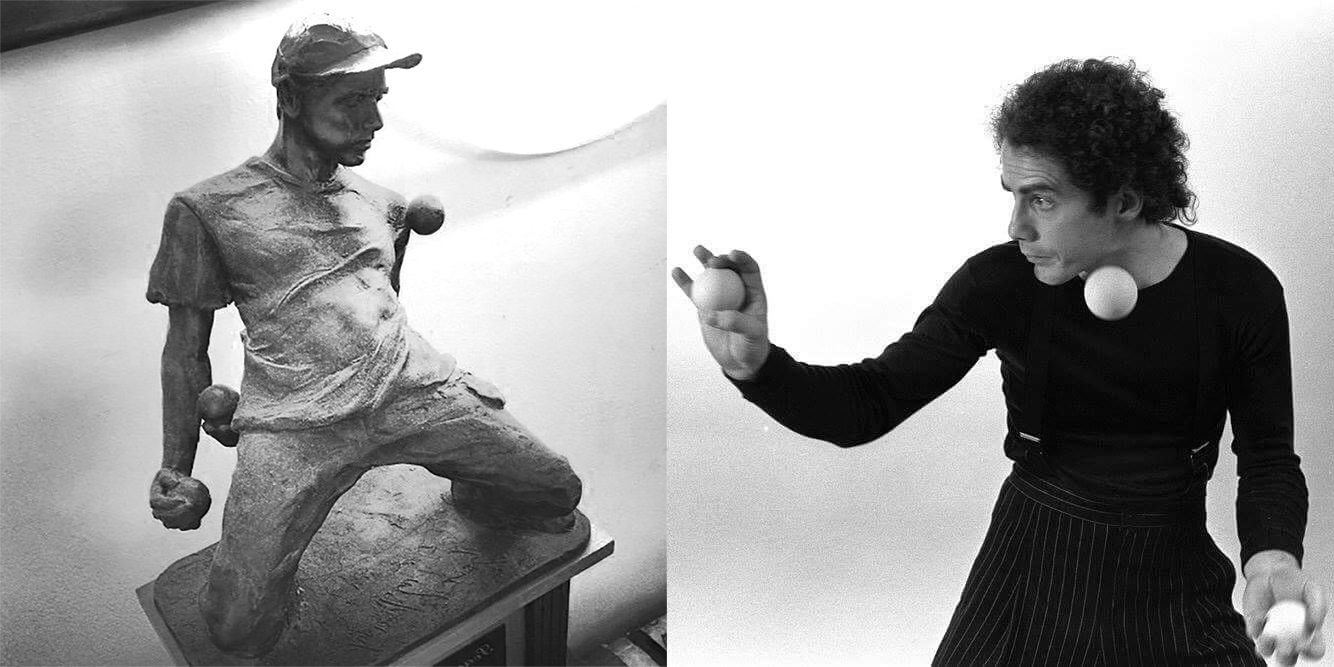 To grasp the concept, nothing better than tracing a chronological line that details the evolution and assembles the puzzle of its definition. As in every movement, there are pioneers who started the path even without knowing it. In the era prior to the appearance of the term Street Juggling, two artists stood out and marked future generations with their routines and videos: Michael Moschen and Sean McKinney. In his famous video "Michael Moschen In Motion" (1991), which has just turned thirty years after its premiere, the king of contact and rolling balls starts the VHS with a tour through the streets of NY juggling with three bouncing balls and interacting with street furniture and passers-by. A three-minute sequence in which Michael deploys his technique around the city as an opening into the universe that made him famous. The great master of modern juggling with his unique body attitude, somewhere between a mime and a classical dancer, had no idea at the time that this routine could be the founding genesis of the idea of Street Juggling.
On the other hand, from the opposite coast and starting in the mid-nineties, a series of videos emerged that compiled tricks, experiments and endless risky antics performed by a handful of skaters and jugglers (including Tony Hawk and Jay Gilligan!). This material, which over time became cult videos, is known as Caught Clean, and it features the Californian Sean McKinney, who makes a fundamental contribution to this scene (in this excerpt from Caught Clean from 1997 we see him at his best), and anticipates the essence of what would define Street Juggling: A homemade video clip of a couple of minutes on a song by the punk band Supernova in which Sean appears behind a fisheye lens, showing off with clubs and balls while jumping from roofs and balancing on railings. There is a clear approach to the crossover with parkour (in those years still non-existent too), and mainly with skateboarding that would become a key component of the Street Juggling DNA in the last two decades. McKinney has become a counter-cultural icon for his style, reaching the pantheon of juggling history after dying at the young age of thirty years old.
STREET JUGGLING: THE START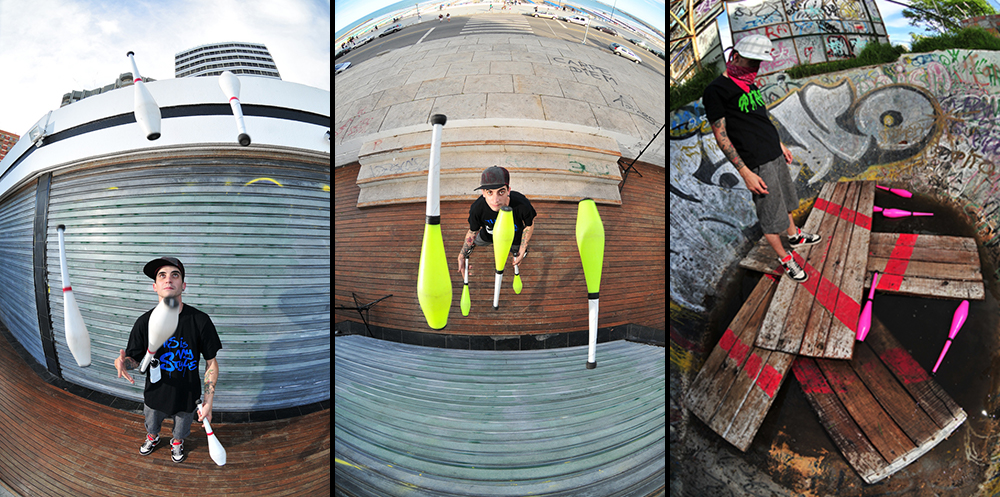 The hinge of this story finally came in September 2006 on a recently launched YouTube (the first video of the mother of all visual platforms came out in April 2005), when the Street Juggling music video was uploaded. Produced by K8 Juggling and Fun Skateboarding, it shows Francisco Ciprian (@streetjuggling), pioneer and main reference, walking along the promenade and the port of Mar del Plata with a red suitcase full of clubs. This is where planets aligned and established the ground zero of this concept that continued to grow for the next fifteen years. The idea was clear; a defined script, sharp editing, great locations, a catchy track, the fisheye lens as a hallmark and a superlative juggling level at the time. As far as today the video reached more than 183,000 views!
THE INVASION OF SPACE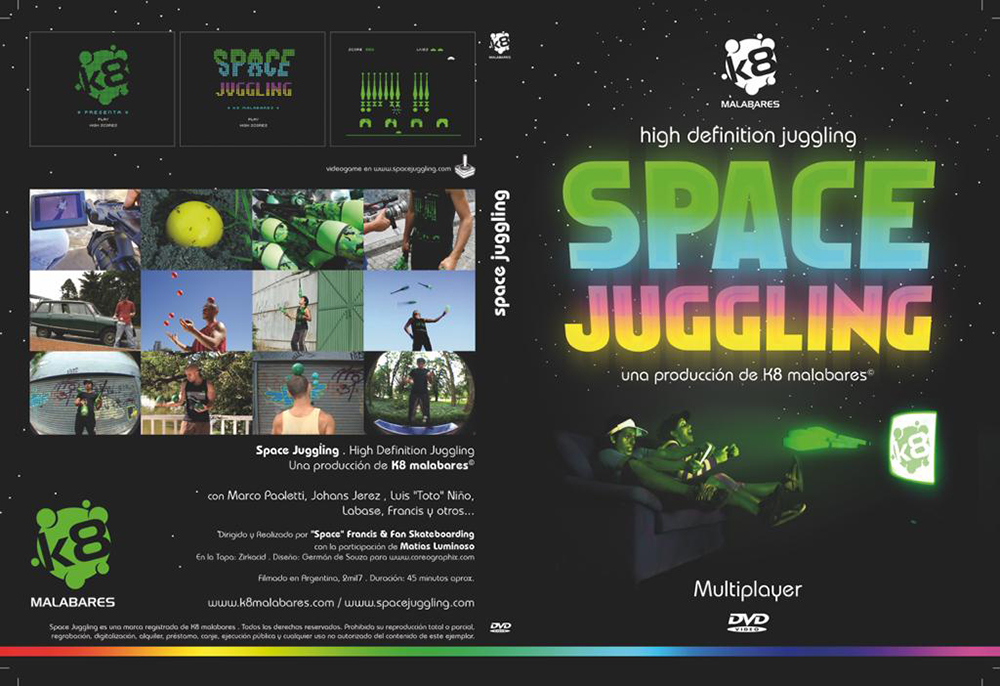 The following year and with the impulse of that initiation video, the DVD Space Juggling (2007) was released, a new production of K8 Juggling, but this time with a local and international dream team of jugglers and direction of Francis & Fan Skateboarding. The concept design was in charge of Germán de Souza (visionary director of the magazine Newton Las Pelotas!) who created an epic crossover between the classic arcade video game Space Invaders and the Street Juggling universe. The forty-minute DVD runs through many graffiti spots from Buenos Aires intervened by a crew formed by Marco Paoletti, Johans Jerez, Luis Niño Toto, Labase, Julian de Rosa, Francico Ciprian, Emiliano Sanders, Felipe Santa. The two thousand copies made of this DVD were sold out several years ago.
NEWTON MAGAZINE CONCEPTUALIZES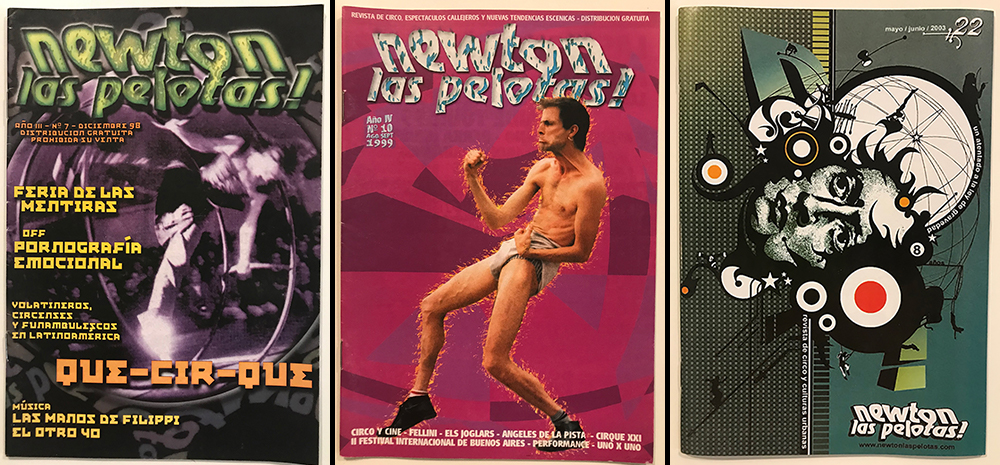 The response generated by the Street Juggling video first, and the DVD Space Juggling later, needed someone to put into words what was going on in the scene. And it was Germán de Souza himself who wrote, in an online edition of Newton Las Pelotas from 2008, an article entitled: Street Juggling: A new term in the air. This text, which serves as a kind of decalogue, highlighted a series of ideas and descriptions that work as a conceptual basis of this new movement. De Souza proposed the following:
" We can define Street Juggling as a juggling discipline that takes place exclusively on city streets. This type of practice integrates urban furniture and public space into the game, so that any bench, telephone booth, bridge, stairway, wall, platform, or structure serves as an element for juggling as well as the element itself with which it is juggled, and it can be integrated either actively (bouncing the balls on different architectures or passing the clubs across a bridge or beam, etc.) or passively (using the urban environment as a stage or scenery).
It is a practice that evidently favors the juggling game with certain specific elements, such as bouncing balls and clubs, though it does not exclude other common juggling objects like diabolos, balls, devil sticks, etc.
Those who practise Street Juggling do not make any reference to the circus world as it is usually known, neither in their clothes nor in their way of juggling, they do not seek humor in their routines, nor do they pursue the role of a comedian. However, there is an attempt to achieve a high degree of difficulty in tricks, which many times stage juggling does not allow due to the risk that produces the fact that it cannot (or should not) fail on stage. In Street Juggling, the fact that an object falls is part of the gravitational reality, even if the fall is in part used positively or not within the juggling routine.
The practice of Street Juggling does not pursue an economic purpose, as it is not a street show, it does not include passing the hat, and does not even aim to gather an audience, nor does it seek applause. However, Street Jugglers can be financially rewarded by sponsorship from brands, advertising or by being hired for video productions or demonstrations at urban events, such as festivals or gatherings.
Street Juggling represents the act of juggling itself, which can be practiced alone or in groups, in a relaxed way or with the aim of composing a routine that has a certain beginning and an end, with the inclusion (or not) of certain goals at the level of difficulty.
Street Juggling finds its best showcase in video. The video recording of juggling sessions allows to capture the best moments and their future reproduction. During shootings, there is no audience and this allows the juggler to develop, create, invent and show the best of himself or herself without the pressure of having to respond to the rhythm and timing of a show in real-time.
Street Juggling can reach different dynamics: training, composition, and testing (trial and error), thus recovering the playful nature of juggling without competition, where its relationship with art almost disappears. Street Juggling enhances the cunning, intelligence, skills and risks of the juggler who practices it".
STREET JUGGLING MEETS SAO PAULO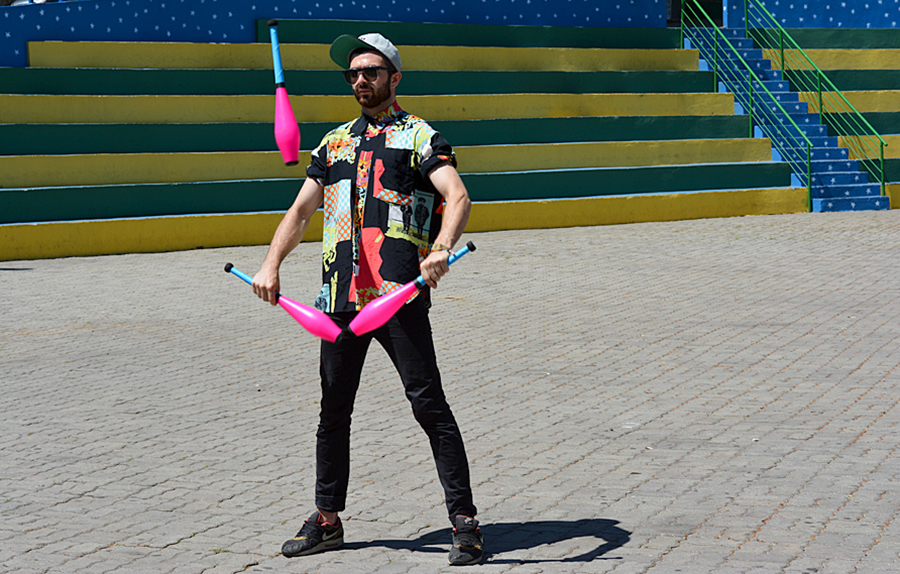 Fast forward to 2014. The next stop has the name of a postmodern juggling heavyweight: Wes Peden. The New York juggler made his first collaboration with the K8 Juggling crew (Francis, this time in charge of the camera and editing, and Orlando Martínez, as a photographer) in a six-minute video on the outskirts of Sao Paulo. Wes Peden Sucks shows a series of tricks and routines with remarkable originality and difficulty guaranteed. This meeting in Brazil was the starting point of a friendship and work relationship that continued over the following years until today.
ORGANIC VALPO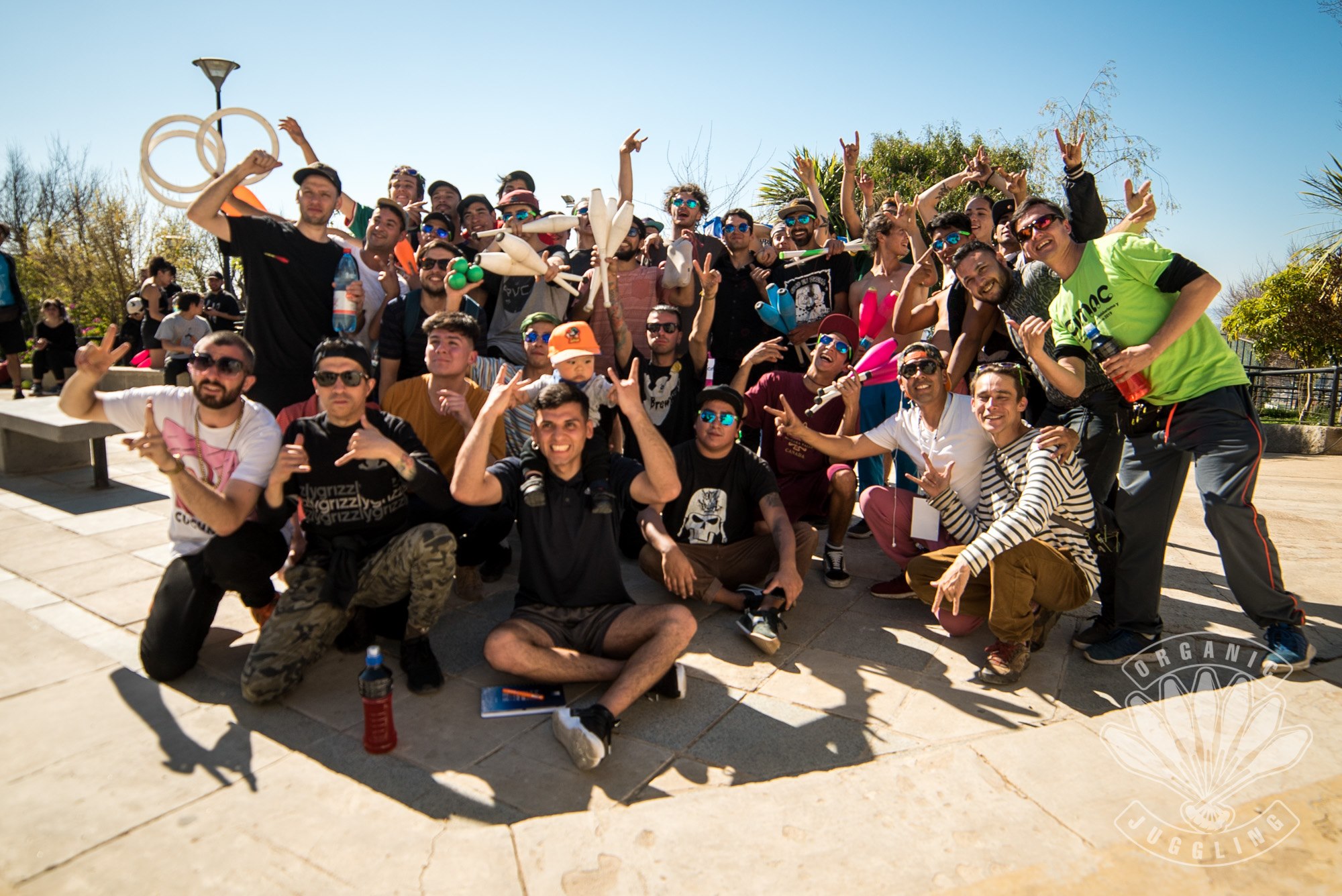 Another important piece in the puzzle of Street Juggling is signed by the Chilean juggler Orlando Martinez (aka Organic Juggling), who over the course of a decade (2010-2020) held more than forty urban juggling events in Santiago de Chile, which laid the foundations for a generation of Chilean jugglers who dominated the scene in South America. In December 2019, within the activities of the International Juggling and Circus Arts Congress (CIMAC) held in Valparaíso, Orlando organized the Valpo Street Juggling. In this meeting something unprecedented took place: a competition with rules and prizes in which a series of competitors had to go through a typical Valparaíso street (with its slopes, urban difficulties and open-air murals) performing juggling routines with clubs while they were followed by judges, public and cameras recording each intervention. Undoubtedly a milestone for the young history of Street Juggling.
STROLLING THROUGH STOCKHOLM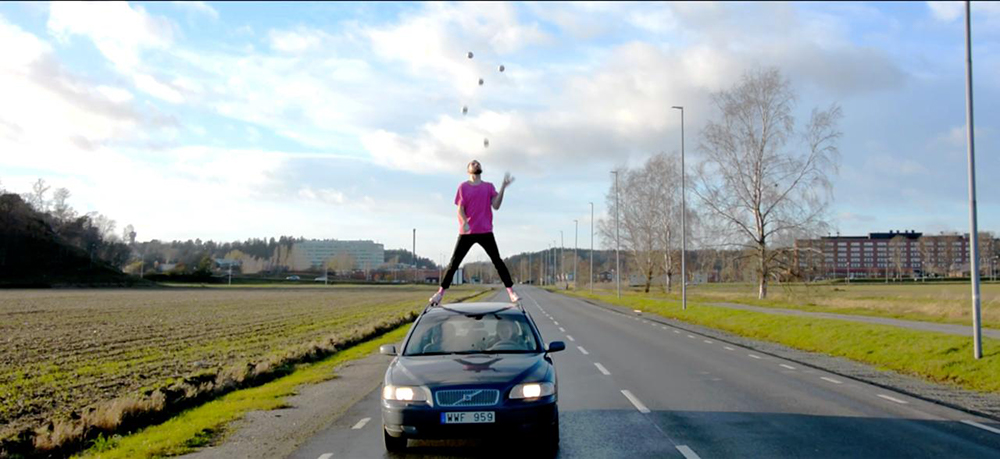 The timeline ends with PARADE! (Street Juggling in Stockholm), Wes Peden's latest production uploaded to youtube in December 2020. A video of almost six minutes in which Wes displays the full menu: running and juggling with five clubs through the Swedish capital, dodging railings and balancing on everything in his path while performing impossible tricks with three balls. Everything is part of the routine, playground games, garbage cans, a skate bowl; always in motion, always juggling. As a final trick, he throws seven balls standing on the roof of a moving car. A totally-normal everyday-thing.
What will be the next step in the evolution of Street Juggling? It will surely depend on the ripple effect that all these productions and the viralization of their videos can initiate. The organization of future competitions, festivals and specialized meetings that support street jugglers, as it happens with skate and snowboard riders, may play a key factor in the growth of this urban culture. But, ultimately, it will all depend on the emergence of future generations of new jugglers from around the world shooting their own videos and seeking for new ways to create routines, merge techniques and defy both gravity and the surrounding space. Are you ready to take Street Juggling to the next level? Stay tuned for K8 news!